Taufeintrag von
Karl Augustin Seelentag
(Baptismal entry of Karl Augustin Seelentag)
Pfarrmatrikel Achsheim, Band II, Taufen 1766-1812, Seite 43, Eintrag 10:
Inzwischen ist die Pfarrmatrikel auch online einsehbar.
(Übersetzung / Translation)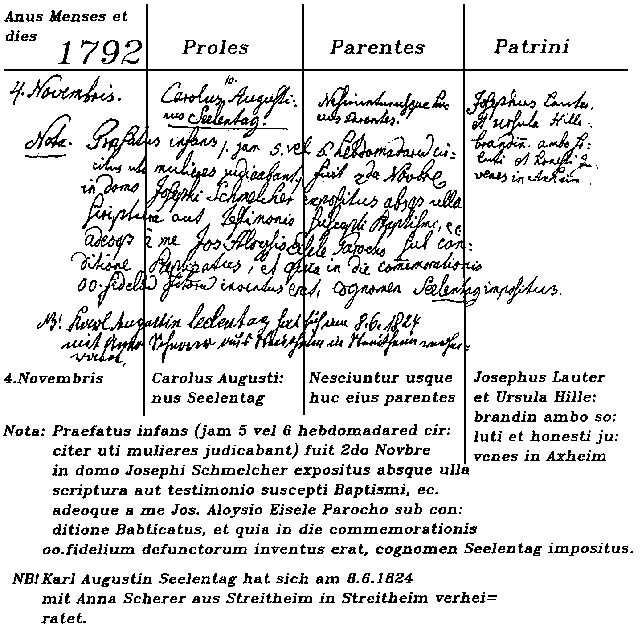 Anus Menses et dies
Jahr Monat und Tag
year month and day
4. November 1792
4 November 1792
Proles
Person
person
Carolus Augustinus Seelentag
Carolus Augustinus Seelentag
Parentes
Eltern
parents
Seine Eltern sind bisher nicht bekannt
His parents are not known to date
Patrini
Paten
godparents
Jospeh Lauter und Ursula Hillebrand, beide ledig und angesehene junge Leute in Axheim
Jospeh Lauter and Ursula Hillebrand, both single, and respected young people of Axheim
Nota
Vermerk
comment
Das vorgenannte Kind (nach dem Urteil von Frauen schon etwa 5 oder 6 Wochen alt) war am 2. November beim Haus des Joseph Schmelcher ohne jedes Schriftstück oder Zeugnis empfangener Taufe etc. ausgesetzt worden und wurde deshalb von mir, Pfarrer Jos. Alois Eisele, bedingungsweise getauft und, da er am Allerseelentage gefunden worden war, mit dem Familiennamen Seelentag belegt.
Der Begriff "bedingungsweise getauft" bedeutet, dass die Taufe nur für den Fall gilt, dass vorher wirklich keine Taufe stattgefunden hat.
The above mentioned child (judged by women to be some 5 or 6 weeks old) had been found on 2 November near Joseph Schmelcher's house, without any written document or other proof of baptism; he was therefore conditionally baptised by me, Father Jos. Alois Eisele, and as he was found on the Allerseelentag (All Souls' Day) given the name Seelentag.
The expression "conditionally baptised" implies that this baptism would only be valid in case there was actually no previous baptism.
NB ! (nota bene)
Karl Augustin Seelentag hat sich am 8.6.1824 mit Anna Scherer aus Streitheim in Streitheim verheiratet.
Karl Augustin Seelentag has on 8 June 1824 in Streitheim married Anna Scherer of Streitheim.

---

Achsheim ist heute Teil von Langweid am Lech.
Streitheim ist heute Teil von Zusmarshausen.

---

Today Achsheim forms part of Langweid am Lech.
Today Streitheim forms part of Zusmarshausen.
---
Wenn eine Kopie mit besserer Auflösung zum Herunterladen gewünscht wird, bitte hier klicken (Achtung: 162 kB).
To download an image file with better resolution, please, click here (Beware: 162 kB).
Nachkommen von (descendants of) Karl Augustin Seelentag
Autor: Wolf Seelentag
Letzte Bearbeitung 17 Juli 2020.